Welcome to our shop!
All our items are NEW! Some may have been tried on at trunk shows and opened out of original packaging. These are all design samples from Matilda Jane Clothing Trunk Keepers. If you do not find your size available on our website, please message me and I will put you in touch with a trunk keeper for that purchase. I want your daughters, nieces, cousins, friends to LOVE their discounted boutique clothing!  This brand has amazing quality and will last forever- many pieces grow with your child. Dresses become tunics and pants become the cutest capri's. The choices are limitless!
I hope to bring the joy of beautiful designer clothes to you at a very deep discount. Please note that these sale items are not eligible for returns, and all sales are final. Thank you for reading and happy shopping!
Vintage and Very Hard to Find Collections: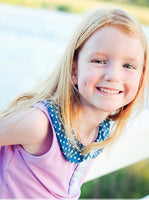 Hi! My name is Caroline and I'm so happy you're here:
Playing dress up is still a favorite with my sisters and I. Another favorite is sharing the joy of these clothes with YOU! These clothes are all new with tags, only tried on for fashion shows and photo shoots... My mommy says "keeping a little girl 'little' is very important". That's why she only dressed us in quality boutique brands like Matilda Jane Clothing and others. Please check back often as she will update our inventory frequently. There's always a treasure to be found here! Happy Shopping! 
PS: We promise to provide you with beautiful designer clothes for a great price too!